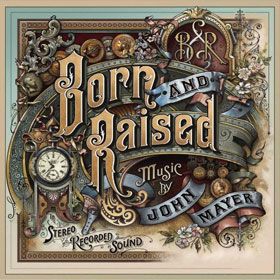 My suspicion crept in the moment I saw the cover. What is this? I thought, as I picked up the unfamiliar-looking album from its shelf. Born and Raised, Music by John Mayer (Columbia, 2012). His new one? I bought it out of curiosity. I perused the sleeve and saw a mustachioed man wearing a panama-slash-fedora hat, mid-length hair, and a denim jacket. He was holding a nylon-stringed guitar. Johnny Depp? Nice try. It's Mayer's new outfit (still deciding on whether I dig it or not) and all I could do was guess the music it represented.
The first listen was the most puzzling. I mistakenly listened in, Battle Studies-minded. I expected to hop aboard a train running on the rails of bitterness and post-break-up egoism but I was taken by surprise – pretty much like when you're about to take a drink, expecting to taste coffee, only to be met with water. Rather disconcerting.
In Born and Raised (or B&R), Mayer introduces pedal steels, slide guitars, harmonicas, even orchestral cymbals. The record seemed stuck on the sonic cross-terrain between the "Who Says" and "Perfectly Lonely," which was anything but bold or loud. It was resigned and weak, almost. I actually got antsy halfway through B&R and had to take a listening break. I thought it was a bit stale.
Yeah. By now, you're probably thinking this is a bad album already but hey, first impressions can be deceiving. Besides, you can't write John Mayer off at your first listen, right? Who does that?
Born and Raised is Mayer's most "settled" record in terms of theme and sound relative to the explosive Continuum and the self-indulgent Battle Studies, although B&R rivals the former in scope and beats both in its loyalty to style. Caressing opener "Queen of California" tells of someone heading out for a bit of soul searching, bidding the "cold, rain, sorrow and shame" goodbye. He nods to Joni Mitchell and Neil Young to contextualize and justify his own quest for freedom. The gentle acoustic guitars and piano licks set the tone for the following tracks, which emulate a subdued and reflective yearning.
Speaking of Neil Young, B&R enters Harvest territory with "The Age of Worry," whose grandeur almost borrows from "A Man Needs a Maid" and "There's a World." The confident air of rebellion in the lyrics is all Mayer's, however. It keeps the balance between influence and originality. "Go wild in the age of worry/and say 'Sorry, why should I care?'" Still very much John.
Title track and single "Born and Raised" also forays into Harvest, thanks to its production and mixing (Pay special attention to the quality of the drums in the mix and listen back to Neil Young's "Out on the Weekend."). At the same time, Mayer waxes about growing up and having the world happen to someone. Combining such themes of love and life in a song, he achieves his next logical step: connecting the disjoint thoughts of his preceding albums and nourishing them into full maturity.
At this point in his career, he has long grown out of his all-too-righteous and edgier-than-you posturing (think "Waiting on the World to Change," "Belief," "Vultures") and abandoned his lovesick machismo ("Heartbreak Warfare," "Friends, Lovers or Nothing"). Perhaps it wouldn't be far from the truth to suggest that, through Born and Raised, we see a man who has finally moved past his struggles and begun to find comfort in his adult shoes. Mayer has learned from his experience (good and bad) and by making good sense of them, comes to grips with reality.
However, we do see glimpses of the old fella in "Something Like Olivia" and "Shadow Days," whose lines are said to be taken from EL James' erotic novel "Fifty Shades of Grey." In Olivia, the persona's mind is occupied by a girl already in a relationship. He's the sort who would respect the girl and her partner but wouldn't dare to second-think "letting her in" if "Olivia herself were at his door." He leaves the imagination some menial work by limiting his narrative and veiling everything under the façade of a modern country song. Clever.
As much as I'd hate to point this out, B&R has its eyebrow-raising moment in "Walt Grace's Submarine Test, January 1967," whose verse melodies eerily sound like the Jonas Brothers' "Lovebug." This may come off as negative or positive to you, depending on your taste. That's just about it though, and it probably qualifies as nitpicking. And maybe that's just me, so you can pretend you never read this paragraph if you want.
Overall, Born and Raised is a cohesive and consistent piece of work, artfully performed by a band of skillful musicians and warmly engineered so that the record stays true to its homely country stylings. With Mayer's knack for churning out irresistible songs from his life experience, he has once again successfully conjured a musical chameleon, amply serving the needs demanded by this stage in his life.
If ever you find yourself doubtful upon your first listen, don't fret. You have boarded the same familiar train, only with a new railroad. You may not necessarily know your destination, but buckle up and sit back anyway. Feel the motion, mind the view. Rest assured, you will treasure the journey.
Rating: 8/10