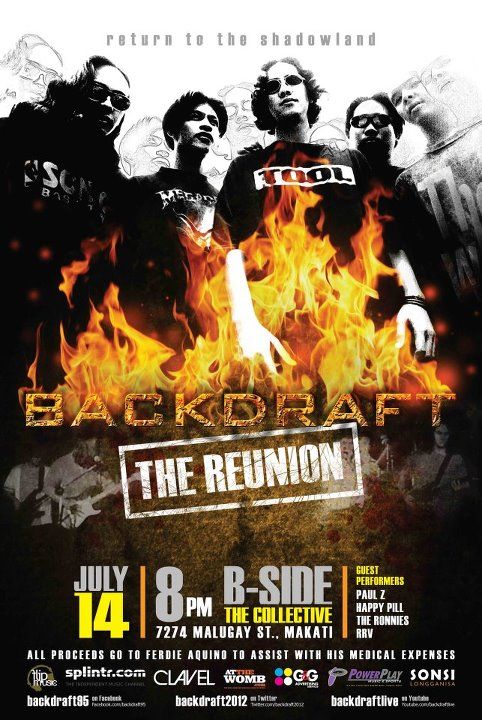 Backdraft, the seminal 1990s Pinoy metal band, is reuniting on July 14, 2012 at B-Side, The Collective, in Makati City. The show will be the first time in 15 years that vocalist Benedict Verzosa, guitarists Mirt Togle and Anton Yap, bassist Tyrone Borromeo, and drummer Jigs De Belen, would share the stage and perform songs from their now-classic pair of albums, 1994's Backdraft and 1996's The Shadowland Deep. Fans can then expect to hear their favorite Backdraft tracks like "Anak Ng Gabi," "SMB (Sad Mad Ballad)," "Dama De Noche," "La Propaganda," "Mötspeed," and more rendered live by the band, like it was 1996 all over again.
The band broke up in 1997, when most of the band members graduated from college and decided to engage in their respective careers. "Anton went into banking," says bassist Tyrone Borromeo, who himself migrated to the US with his family in 2000 to pursue a successful IT career. "Mirt pursued 3D animation, Jigs went into business, and Benedict joined the priesthood and went back to his nursing career." Save for Benedict, who sings for local hard rock outfit Virgin Hunters, none of them have performed on a regular basis since they parted ways, although Tyrone gets to stay musically dexterous at home in New Jersey, jamming with his wife and kids. "My two boys play the drums and my daughter plays the piano," he shares. "We're playing in my brother's wedding this July. My wife is our vocalist."
Although Tyrone has spent a number of vacations in Manila with his family since moving to the US over a decade ago, it's only this year that the band's former members decided to get together and play a show as Backdraft once more. "It never really entered our minds before," says the bassist. Timing was also key, as Mirt, Jigs, and Anton had also lived abroad in recent years. With Tyrone coming home to attend both his brother's and sister-in-law's weddings this month, all five of them thought it would be the perfect opportunity to hold a reunion show. "We also wanted to do something special for Ferdie Aquino," he adds, mentioning their former guitarist and longtime friend, who fell into a coma in 1995 due to a genetic heart disease. He is still in the long process of recovery, and all the proceeds of July 14's show will go to Aquino's family and help with his medical expenses.
Backdraft's reunion show has been a long time coming, and based on the response the band has gotten on Facebook, everyone's excited for it, especially the band members themselves. But how ready are they? "We've all been heavily practicing, although because of our geographic differences, it has been challenging," continues Tyrone. "Mirt, Anton, Jigs and Dick all have practiced together in Manila, and Mirt, Jigs and Anton have practiced in Singapore too. I'm the only one who hasn't jammed yet, but that will change this week."
Backdraft: The Reunion will be held on Saturday, July 14, 2012, at B-Side, The Collective, 7274 Malugay Street, Makati City. Show starts at 8pm. Also performing are Paul Zialcita, Happy Pill, The Ronnies, and RRV. Tickets at P150 each. Get updates and RSVP on the Facebook event page and follow the band on Twitter.