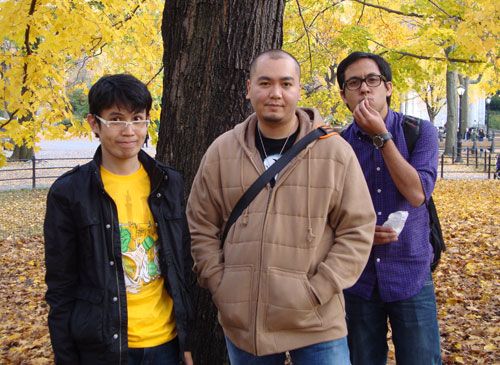 There is a passage in Douglas Coupland's Life After God where the protagonist mulls over his "core" being, concluding how, despite the years, it remains intact, unflinching. He says, "When I wake up in the morning, for those first few moments before I remember where I am or when I am, I still feel the same way I did when I woke up at the age of five." I tell Ciudad's Mikey Amistoso about this passage and how appealing such an idea was for me, of our waking-up moment being disparate from our waking consciousness, of the former being constant despite the vacillation of the latter. Which is to say: our de facto sense of wonder and anticipation (or disgruntlement and apathy, whichever the case may be) is still at play no matter what job you end up doing, or which dump you find yourself living in. I suggest that perhaps Ciudad is the same way, and that despite the band's shifts in, say, personnel (Jeff Cabal leaving), instrumentation (the rise of the killer synthesizers), and maybe lyrical themes (jobs and such), it's still a five-year-old waking up in his room with cartoon animals painted on the wall. Their fifth record, Follow the Leader, was made, in principle, with this "core" Ciudad calling the shots. "We did this album with the least pressure possible, not like the previous albums where we needed to prove something. 'Eto, wala lang, the songs just came up, and we recorded them as they did," Amistoso shares, every bit the perpetual teenager though now in his (very) early thirties. Though a strong case can be made for 2003's Is That Ciudad? Yes, Son, It's Me or even 2008's Bring Your Friends as the best release from the well-loved trio (formerly quartet), FTL, through sheer instrumentation alone, easily floors the rest. "I would say this is our Sgt. Pepper or maybe Pet Sounds? We're not The Beatles or anything, but I [say that] because the instrumentation is such a leap here," Amistoso confidently offers. And with orchestral sweeps and other strokes of genius such as those found in "Due Dates" and "You Know the Answer, Just Follow the Leader"—counting, of course, guitarist Justin Sunico's tasteful lines and drummer Mitch Singson's Ringo-isms that border on adventurous storytelling in itself, not to mention Amistoso's character vocals and overall musical vision—we do glean merits to the otherwise tall comparisons.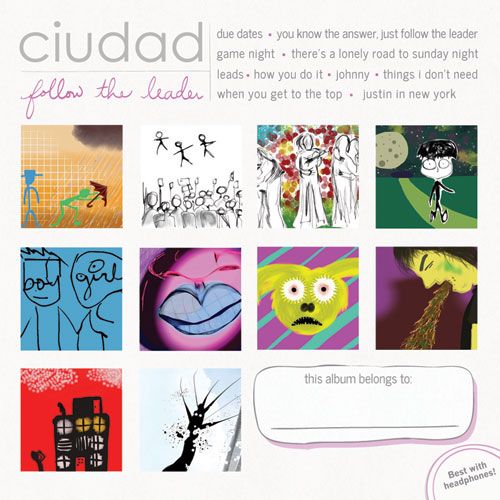 What buoyed the album's creation (from the songwriter's end, at least) is the creative atmosphere provided by Mikey's working playpen: the arranger's suite at Liquidpost, where he works creating jingles and scores. This is where, in fact, he made most of Hannah+Gabi's Haha Yes, his first solo output from 2010. "[It's a] treasure chest of sound, whether real instruments or digital ones, and [it's] also [where we're able to come up with] that raw recording feel, like recording a kid drumset with one mic, and making it sound like a real drumset," Amistoso brings to light a little trade secret. This cubbyhole of creativity is also where he makes sweet music (and I only mean this literally) with the Itchyworms' Jazz Nicolas, easily the silent fourth Ciudad guy here, and not in any small measure. "Sobrang ganda ng partnership ko at ni Jazz; para kaming musical soulmates," the bassist shares of his love for the unassuming genius from the 'Worms, continuing, "May ideas ako and he puts in his two cents, which makes [these ideas] a thousand times better. And since he basically lives with me every day at that Liquidpost room, he's there to give lots of input." The aforementioned "Due Dates," the album's opening track, benefited from this musical kinship. It was lying around as a bit of circular verse-chorus-verse ditty that Mikey was incapable of fully shaping into song, until he brought in Jazz to jazz it up. "It always just felt unfinished, and then [Jazz] did that—the wonderful ending instrumental which I call the orchestra from the future—and from then on, ginanahan na ako with the song. I finally arranged the verses, and then 'yun, natapos na 'yung song, much, much better than I expected. I thought I was going to throw that away!" Also key was the participation of Marian Hernandez, Amistoso's other half, on lyrical detail. "She's a really good writer; I had initial ideas and she would just expand them into something beautiful, and make them beautifully written," Mikey shares, admitting, "I'm a lazy lyricist; ako, basta magkasya du'n sa melody, okay na 'yan! But she wouldn't take that. And I'm really happy with the results." Moreover, the guys from +/-, that impossibly talented and criminally overlooked band, also chipped in. "Meeting those people is really a blessing for us. I've been keeping a close correspondence with James Baluyut ever since, and he's been very supportive with my work. I send him demos, then he gives his comments and tells me what to correct, recording-wise." Chris Deaner, furthermore, drums on "Things I Don't Need." Other stellar appearances include Boldstar's Marie Jamora singing back-up on "You Know the Answer…" and erstwhile Sugarfree drummer Kaka Quisumbing providing additional drumwork on "Justin in New York."
Ciudad holds a special place in the Pinoy alterna-'90s atlas as the scene's younger (but by no means lesser skilled) cousins. This image of them persists to this day despite their having matured in years and musical aptitude. But as with that Coupland musing in the beginning, this waking-up-moment Ciudad is intact, kicking like a grade-school kid on Monday morning, his parents tugging at his blankets as though yanking at his dreams, reminding him that playtime (the weekend) is over and work (the week) just swung around the corner. He knows what looms ahead, and has been cognizant since the previous night, after having traversed that "lonely road" that is Sunday evening, after hesitantly closing that fantasy-world door. "We've been telling people that Bring Your Friends was our growing-up and maturing album. Dito naman sa Follow the Leader, it's past that na. 'Now we're mature and all grown up, what now? We go back to having fun.'" "Young-tito fun," I offer. "Yeah, tito fun!" Mikey cheers his assent.
Attraction! Reaction! is hosting the Follow the Leader launch on July 7 at Route 196. Supporting Ciudad are Ang Bandang Shirley, The Strangeness, and Your Imaginary Friends. RSVP and view full event details here. Listen and sing along to advance single "There's a Lonely Road to Sunday Night" here. Images provided by Mikey Amistoso.