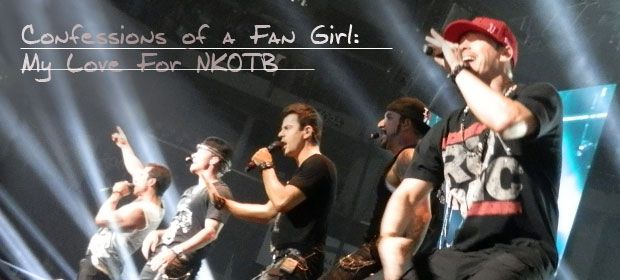 Let me begin by cutting to the chase. I will waste neither your time nor mine by trying to come up with a clever way of leading you through this first paragraph. Plainly and simply, I love the New Kids on the Block. Love. Present tense.
Yes, I am a rabid fan and have been since 1988, when I was 11 and by some fluke of fate, picked up a cassette copy of their first album. Or was it given as a gift? Honestly, I don't really remember. I do recall that I promptly fell in love with "Popsicle" – a pop track so heavily laden with sugar that it would make a CrossFit trainer cry. I listen to it now and my teeth twinge. But hey, I was 11, so don't judge me.
And so began my tween obsession with these five boys from Boston. Soon after that first release was the much more successful Hanging Tough album. This time, I was given the CD. I played it on a loop, round-the-clock, running out the batteries of my Discman. The year after that came Step by Step. By this time, my obsession with them had reached heights I had never experienced before.
Along with learning all the lyrics, I also absorbed all the videos, recording them on Betamax tapes and playing them over and over again. If there was a dance move, I learned it. If there was a lyric, I etched it into my heart. I think there was a good chance that I could have sung their songs back-masked and danced their choreography backwards too.
This was the world before the Internet. Fan girls like me had no YouTube or Google at our disposal. It took a lot of dedication back then. Our access to the New Kids was limited to what we could find on TV and whatever Bop, Big Bopper, and Tiger Beat decided to publish. Authorized and unauthorized fan books were sent over to Manila from my addiction-enabling relatives. I loved them – both the memorabilia and my relatives. So I clung to what I could find, sharing tidbits with other friends and memorizing the scraps of information sent my way. Everything had meaning; nothing was unimportant. When I found out that Donnie was left-handed, I thought, so am I, so we were meant to be! Joe likes to sleep with the TV on? Same here; we are so getting married when I turn 18! Jon loves dogs? I have dogs! You get the picture.
(One of the big bosses where I work now came from the same grade school and high school as I did. She told me the other month that one of her biggest memories of me from back then was seeing me dancing the steps of "Step By Step" near the stairs of our building. She is a few years older than I am, and for her to remember that about me, I don't know if I should be mortified or flattered.)
When NKOTB came to Manila in 1992, I watched the concert, of course. Never mind that the world around me had moved on. Everyone was listening to Nirvana and pretending to have troubled lives. Pop was not an "in" thing anymore. But there was a horde of us that stood fast, bought tickets and went to watch the New Kids on the Block anyway. We sang our hearts out, swooned, and had the time of our lives.
And then the magic ended. Enter the Dark Ages. Changing tastes in the industry, bad sales of their next albums and tours conspired to pull the rug out from under the feet of many Blockheads around the world. In 1994, the group officially called it quits. In Manila, I thought my world was going to end. It didn't, of course. I was a teen and was quick to recover from the loss of the loves of my life. The world moved on, as did I. And yet, there was always a part of me that never stopped being a fan. I hung on to my memorabilia – the posters, albums, bedsheets (yes, I had bedsheets), shirts – all of it stored lovingly in a box.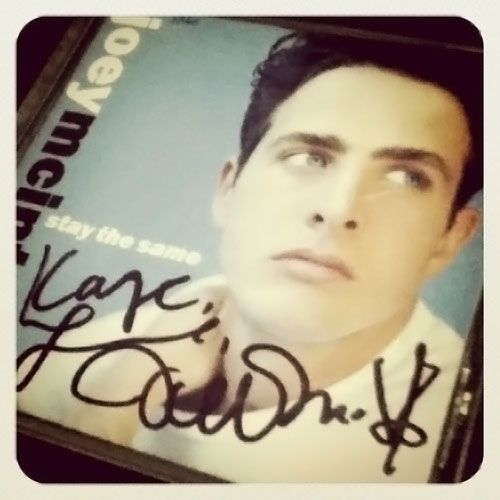 I tried to fill the void via an affair with 98 Degrees and by supporting Joey and Jordan's solo careers. I watched them when they were in Manila, and even interviewed them for various publications. But it wasn't quite the same. I guess you really never forget your first big love, even when it came in the form of five guys that don't even know your name.
And then came 2008, when news rippled through the Internet that the New Kids on the Block were reuniting. Oh JOY. Oh RAPTURE.
The Block was released and fans everywhere rejoiced. And with the Internet at my disposal, I jumped back into the NKOTB pool without hesitation. See, I never stopped being a fan; I just had nothing of theirs to be fan of for so long. I do admit that the rabid fandom that I felt back in '88 did not come rushing back in one fell swoop. I was happy that they were back, but it was under a layer of what I'll just call 'everything else' that was going on in my life. Let's just say there was a lot of that 'everything else.'
It was seeing them in concert again this year that turned the knob from "8" to "11." It was exactly twenty years since I hadlast seen them. I think it was the perfect timing. I had recovered from the "issues" of 2009 and 2010, and all in all, I was in the right place in my head to let my favorite boys from Boston truly back into my life. So here I was again, being the fan girl I should have never stopped being in the first place. I made up for some lost time by moderating an online group of NKOTB fans in the Philippines, blogging about how awesome they are, and trying to convert more people to come live with me in "Barrio Blockheads."
Also, as I was pointing out to a friend of mine (who had the gall to roll her eyes when I said I went to the concert), their sound has grown with them. And yes, doubters and detractors, they could still sing. Hot damn those voices still sounded good, especially when you hear them singing live. How Jordan still hit that falsetto is beyond me but wow. If anything, they look and sound better now than they did back then. Time has been more than kind to them. They're in their late 30s and 40s are sporting bodies that could easily rival the cast of Magic Mike. Okay, except Jon, but he has always been the shy one, and we fans didn't expect him to strip down for our entertainment. Bodies aside, their music has grown along with them and their fan base. They've ditched the sugary pop hooks and have a more mature, R&B sound. They have proven time and again throughout their epic 2011-2012 tour that they are not a manufactured act that is all window dressing with nothing to back it up. These guys are talented. They can sing. They can write. They can produce. They are artists as well as performers. Their constant array of six packs is just a bonus.
I did the math – I have been a fan for 24 years. That's a pretty big deal in my book. We all survived the neon of the '80s, the low-riding baggy jeans of the early '90s and, in my case, the unfortunate era in the late '90s when the oversized GAP Pocket Tee was trendy. They might have fallen off my radar for a bit but they're back. In fact, they just announced that they're working on a new album, their first one since 2008. If they come back to Manila to tour in support of that album, you know who is going to be frantically calling editors (hint, hint) for passes to that press conference. An interview 25 years in the making... imagine that.
So yes, I listen to New Kids on the Block, and I still love them.
PS: If you're a Blockhead from the Philippines, then follow @BH_Philippines on Twitter.
***Banner photo credits to Kathelyn Yu (@JKscupcakequinn)